The planning in your calendar: Useful or not?
The difference between meetings and planning bookings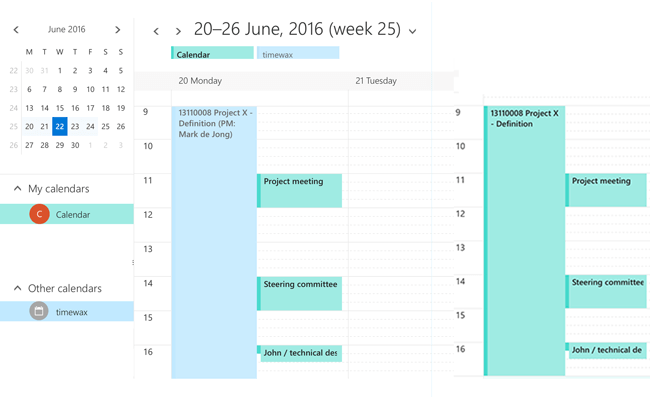 When giving demos of Timewax, customers often ask me whether they can also make the planning part of their calendar (for instance in Outlook). They would like to have two-way processing: everything they plan in Timewax should end up in their calendar and every item that employees plan in their calendars should end up in Timewax. But does that make sense? We will discuss this topic in detail in this blog.
It's useful to make a clear distinction between the planning world and meeting world. Agenda systems such as Outlook and Google Calendar are usually part of the meeting world. A meeting is very specific. It has a start and an end time, and usually involves multiple people. Examples would be an internal meeting or an external meeting at a customer. A meeting usually takes place in a short time-span, like an hour or half an hour.
The planning world makes use of both small and large units. When assigned to a major project, employees are usually planned for entire days as part of the project planning, often for weeks or months at an end. For smaller assignments, you might find that an employee is only planned in for an hour or a couple of hours. You can read more about the usefulness of planning in detail in our blog called Detailed planning? 3 deciding factors.
As far as meetings and planning bookings are concerned, we can discern two different situations:
1. A meeting is the same as a planning booking
2. A meeting is not the same as a planning booking
---
1. A meeting is the same as a planning booking
An example would be a mechanic who visits a customer to perform maintenance. This will be planned in small units. He might spend two hours at the customer and he will then go on to visit the next customer. Taking travel time into consideration, he will be able to have three meetings a day.
In this situation, the planning booking and the meeting are the same. It's important to have all three of these meetings as part of the planning. The mechanic also wants to have these meetings in his calendar.
Would you like to have two way traffic between the planning and the calendar system? I don't think so. I would even go so far as to claim that you do not need an calendar system. You only plan meetings. Why would you use two different systems? You can only use the planning system and stop using the calendar system. Timewax allows the mechanics to only make use of mobile apps. That is all they need.
---
2. A meeting is not the same as a planning booking
A typical example would be a consultant that spends an entire day on location with the customer. The planning tool shows him as planned for the entire day. The consultant has multiple meetings that day. At 11:00 he is meeting with the project team. At 14:00 he has a meeting with the steering committee and at 16:00 he has a meeting with the technical project lead.
Meetings that are part of the personal calendar of the consultant are not important from a planning perspective. Only the fact that he is working on a specific project for 8 hours is important when it comes to the planning.
This brings us to the essence of the issue. If we go back to the starting point of this blog, we see that we have customers that would like to combine their planning and calendar systems. This leads to the following situations.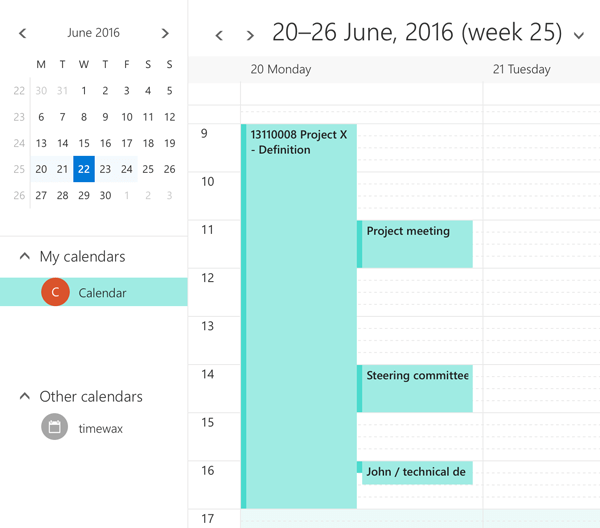 Figure 1: Planning booking in the calendar
The calendar system will, in addition to the three meetings, also contain an 8 hour planning booking. Is this helpful to the consultant? At least the consultant will be aware of what he should be doing today according to the planning. This information is literally 'in his face'. It could be an issue for his colleagues who want to have a meeting with him and are looking for some open space in his calendar. As a result of the planning booking, it seems as if the consultant is not available for the entire day.
Figure 2: Meetings in the planning system
In addition to the 8 hour booking, there will also be three meetings imported and processed in the planning tool. The planning system considers the available and planned hours, and as a result an overbooking is created. The consultant is now planned for a total of 10,5 hours. The consultant was already planned for 8 hours and this is now compounded by three bookings (meetings) for a total of 2,5 hours. This will blur the reporting. The consultant is not overbooked at all, as the three meetings are part of the 8 hours that were already booked.
Another issue is booking the meetings that are pulled into the planning system. In a planning system, everything is structurally booked to a project. This allows us to correctly report the productivity on billable and non-billable projects, as well as for instance the planning performance within a project (budgeted versus planned versus actual numbers). However, meetings coming from the calendar system can often not be linked to a project or activity. A meeting only contains a free text field which describes the meeting. When importing a meeting into the planning system, you will not know to what project or activity you need to book the meeting. You cannot book the meeting on an overarching (bucket) project, because you will lose out on accurate performance reporting.
---
Conclusion
In the situation of the consultant it would be a good idea to leave the planning and calendar world separate. You do not want to have the meetings as part of the planning system. The consultant does want to see the planning however. You can opt to import all of the planning bookings into his calendar. An alternative is that the consultant makes use of an additional calendar and an overlay in order to see the link between his meetings and the planning.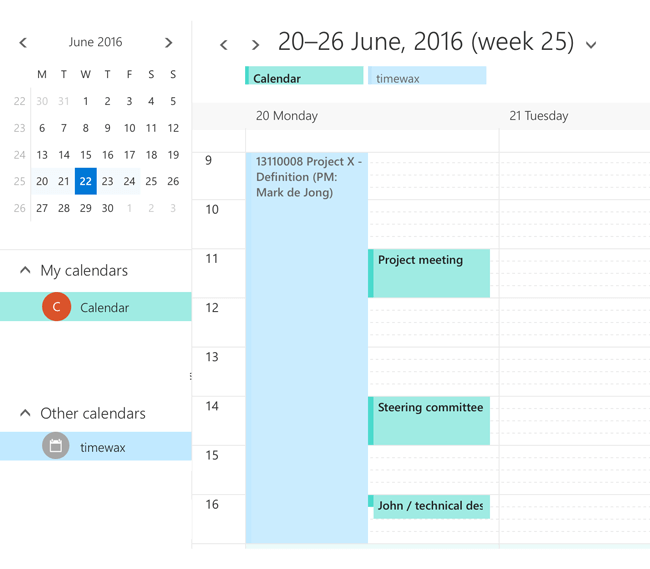 Figure 3: Overlay planning and calendar
We at Timewax offer the following options:
The iCalendar allows you to import the planning into a separate calendar
The Office 365 Outlook link allows you to receive planning bookings directly into your personal calendar
We also have customers that make use of both options. They leave the choice to their employees. Employees who have meetings and planning bookings that are exactly the same will often opt for Office 365. Other employees, who work in larger entities, will opt to keep their meetings and planning bookings separate by making use of an extra calendar with the iCalendar feature.
Holidays; absence
We would like to conclude the blog, by mentioning the holiday registration and the organization thereof. Customers often tell me that they want to be able to check the personal calendar of an employee to see whether or not the employee is on holiday. They want to make this information visible in their planning system. My answer to their questions is that absence (of any type) should always be planned. If someone takes half a day off, then this means that 10% of their weekly contribution is lost. This is substantial and needs to be planned.
Planning of absence requires a procedure. You could setup a process around requesting and authorizing absence. The manager who approves the request for absence, needs to plan the absence as well. You can also provide employees with access to the planning system, giving them the option to plan their own absence. It does not matter how the process is setup, as long as the planning gets done!

Have any questions or remarks? Get in contact with Timewax.
---
Mark is Sales & Marketing Manager at Timewax. He has a background as a project and resource manager with PricewaterhouseCoopers Management Consultants with expertise in the field of Professional Service Automation (PSA)
Recent blogs
---
Blog idea?
---
Do you have an idea for a blog? Send us your idea and become a guest blogger.
Do you want to receive new blogs by email?
Subscribe to blog