Team planner with drag and drop
If you ask planners and project managers, ideally they would like to schedule simply by dragging and dropping. This makes it easy and saves them time. Unfortunately, this doesn't work in Excel, which is commonly used for scheduling projects and resources. This is where a team planner comes into play.
Our online team planner lets you schedule projects by simple drag-and-drop. It will save you some time, and some mistakes too. Your team planner is also accessible online, through multiple devices.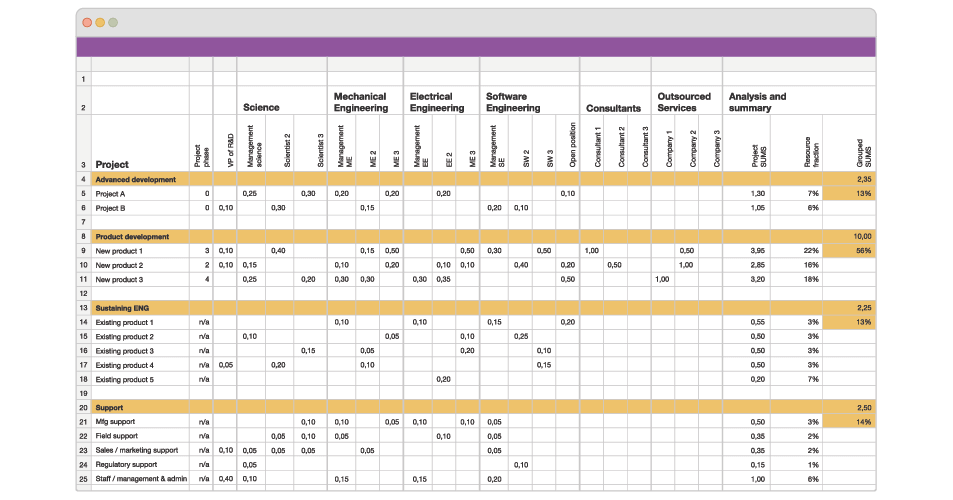 Stop using Excel
When you only need to schedule a handful of employees, Excel is the right tool to start with. It provides sufficient overview and you can still simply update all employees by email or telephone without spending too much time.
However, with a larger number of employees, things often get harder. Especially when you have a lot of changes at hand, which tends to occur in projects. In Excel, you cannot simply drag and drop, but you have to manually copy data to cells. This is time-consuming and can cause mistakes.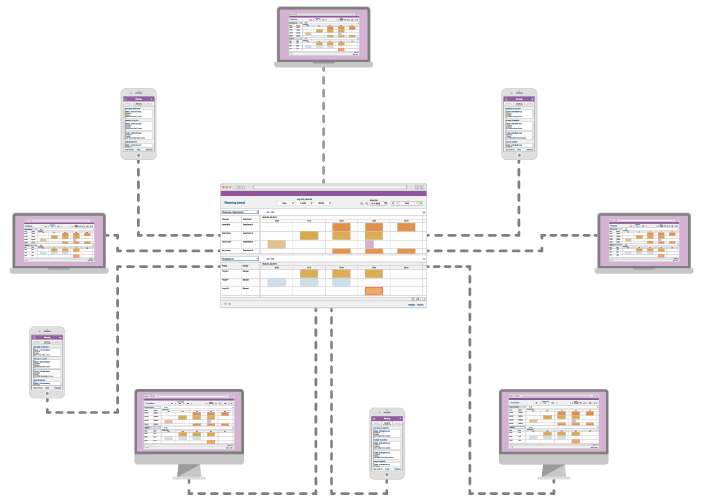 Beyond Excel
That's when resource planning software comes into play. A team planner that supports drag and drop functionality and also alerts you when you overbook resources or create conflicts. This will save time and prevent mistakes.
Next to that, another benefit is having the resource planning available for all involved users to make changes any time they need. That's simply not possible with Excel. That requires multi-user software that is accessible online and preferably through multiple devices. That's precisely why we've developed our online team planner.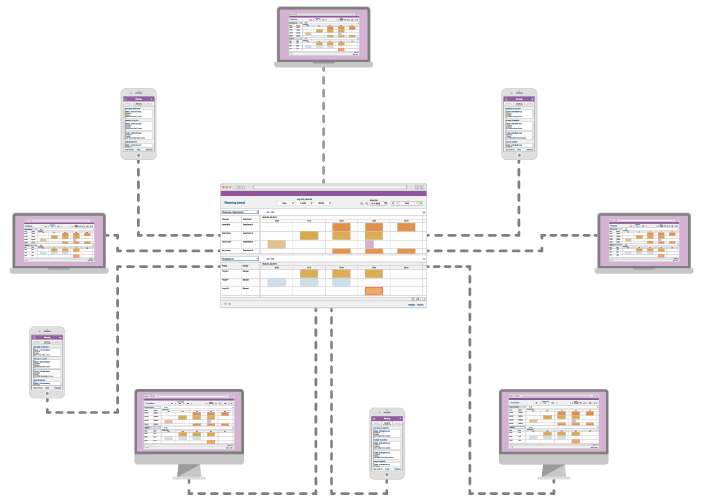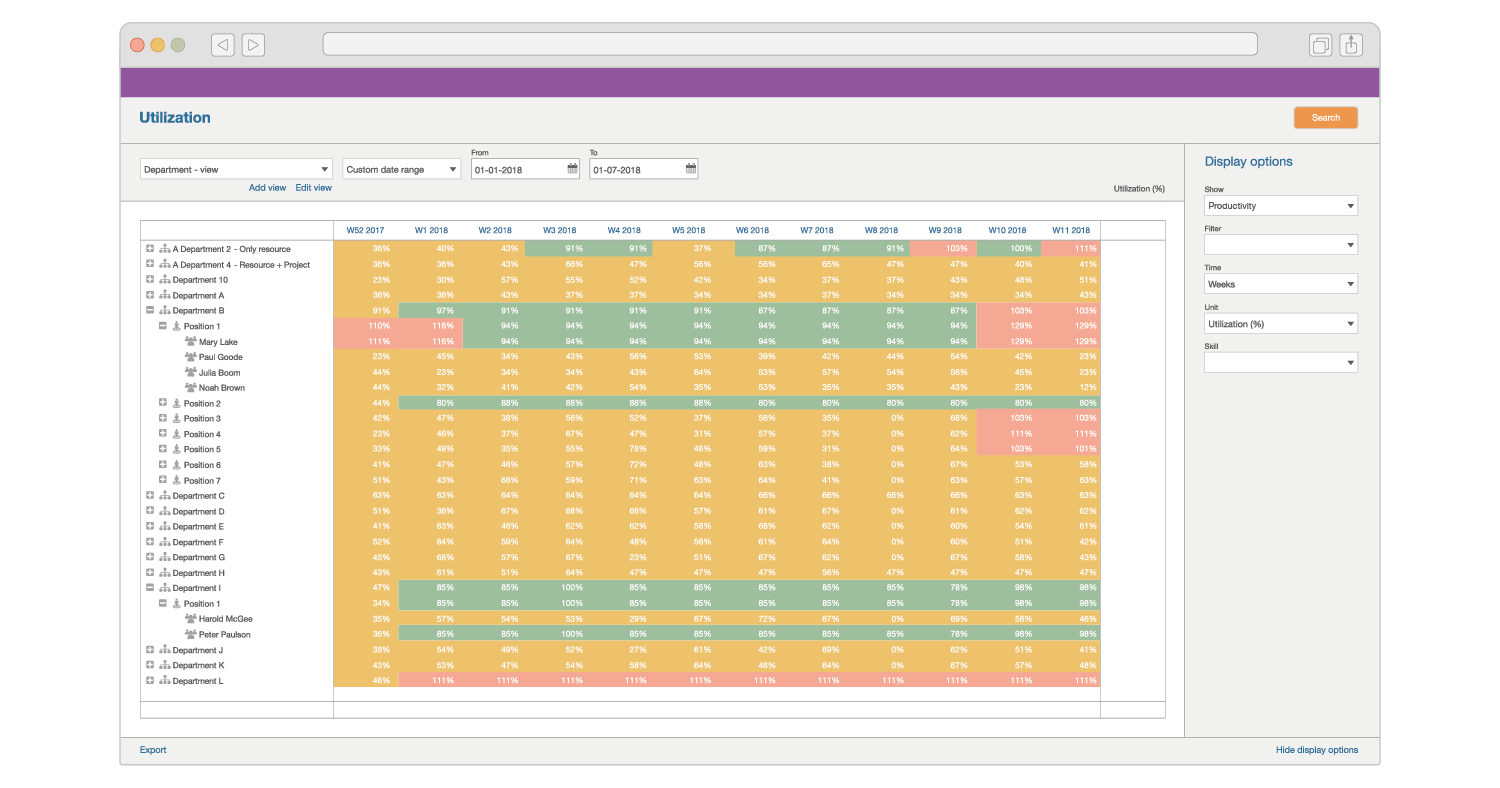 Online team planner
In Timewax, you create a project planning with the Gantt Chart feature. The Planning Board feature is used for scheduling resources. This feature makes it very easy to schedule projects and resources with drag and drop functionality.
Timewax is a cloud solution, which enables you to communicate the project planning and their changes automatically to all the employees by using their calendar system or our mobile app. That saves a lot of effort in keeping everyone up to date.
Scheduling online?
Yes, scheduling your team members online has a lot of advantages. Multiple colleagues can access the planning and make changes any time, everywhere. Next to that, the planning can be communicated automatically using your calendar system or our Mobile app.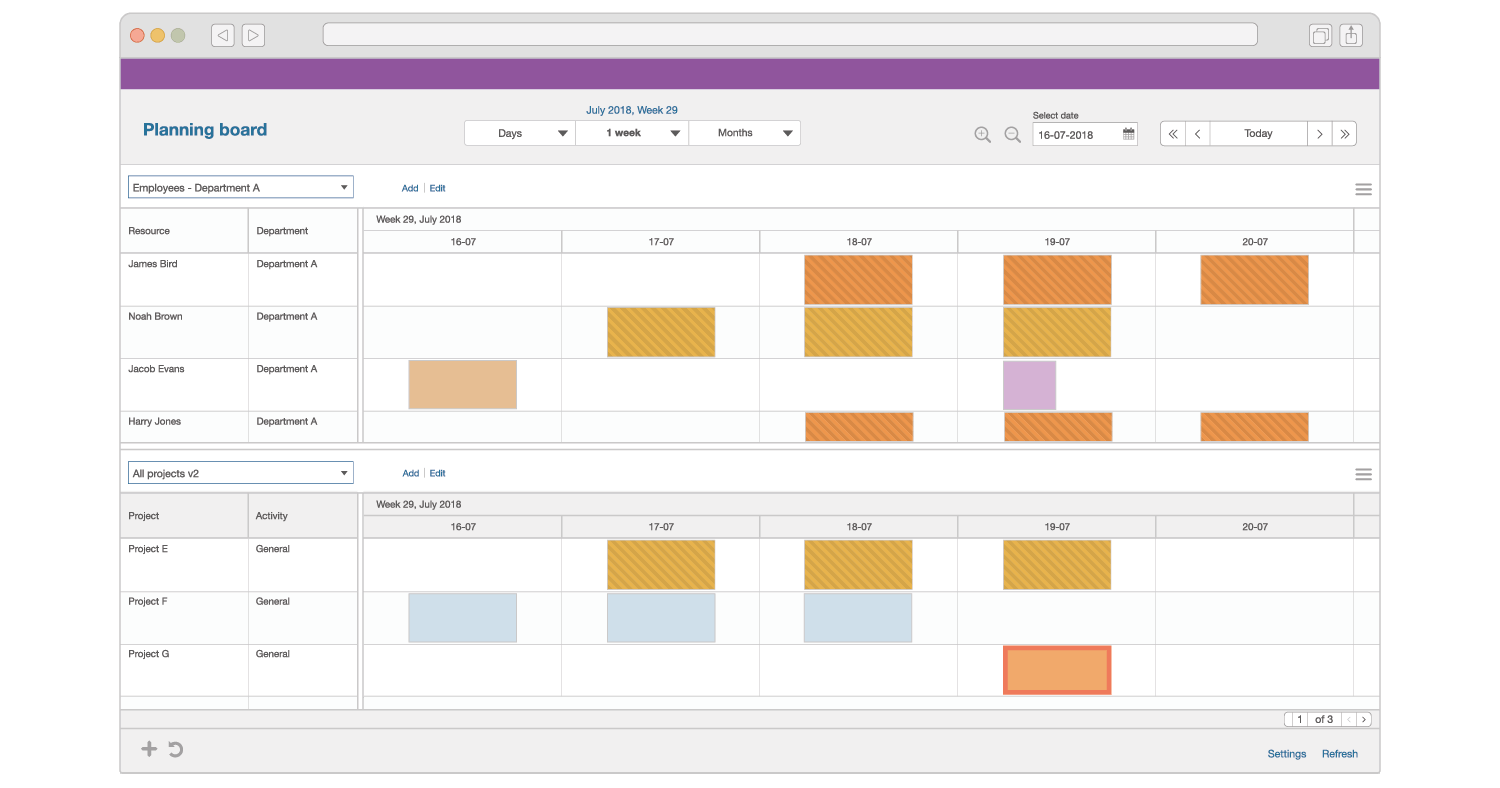 Simple planning overview
To design our online planner, we were very much inspired by old-fashioned planning boards, because they are very convenient in creating a schedule. It's a very visual way of representing projects and activities and they are intuitive to work with. Everybody immediately understands how they work.
In Timewax you create a schedule in our Planning Board feature. You can work in a time scale of days or weeks and you can simply assign resources to projects by dragging and dropping them. Above all, our planning board is online available any time, everywhere.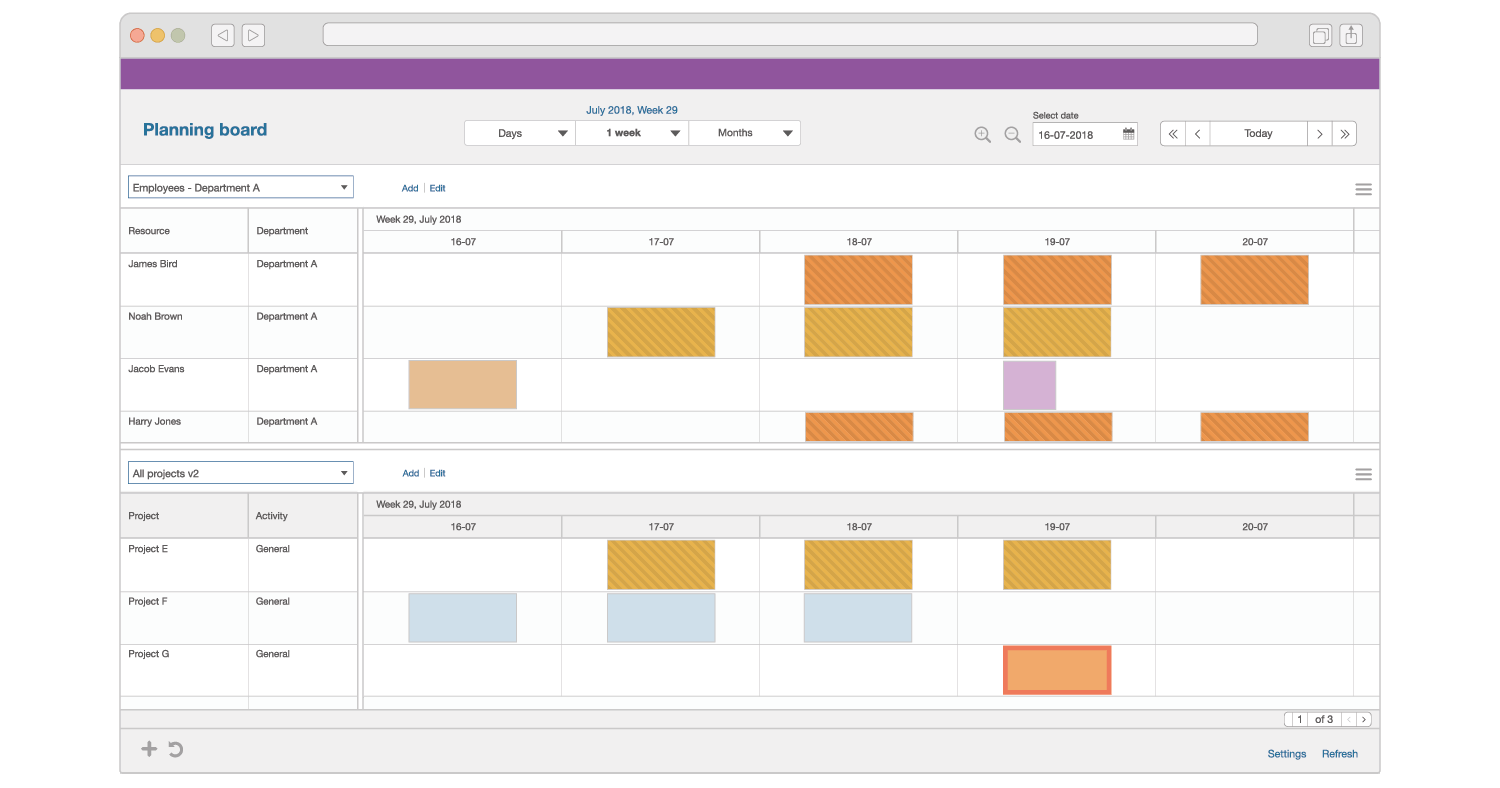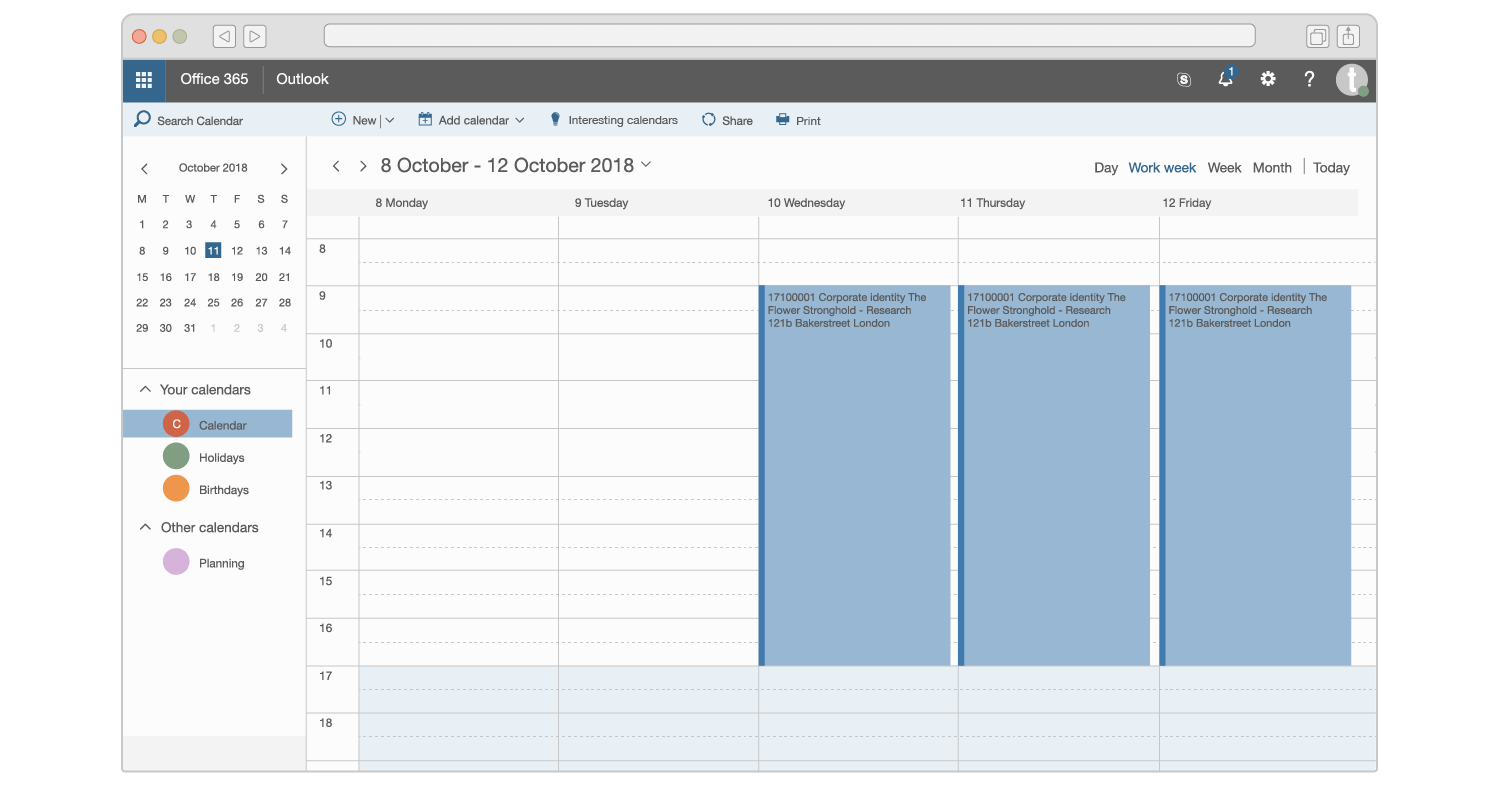 Calendar systems
With the iCalendar feature and our integration with Office 365 and Google Calendar, you can embed the planning in your company's calendar system. Employees can view the planning in an additional calendar or in their default calendar, next to their appointments.
This way, employees will aways have an up-to-date view at their fingertips in a system with which they are already familiar. Remarks to bookings will also be visible and employees can also report the progress by clicking on the progress link.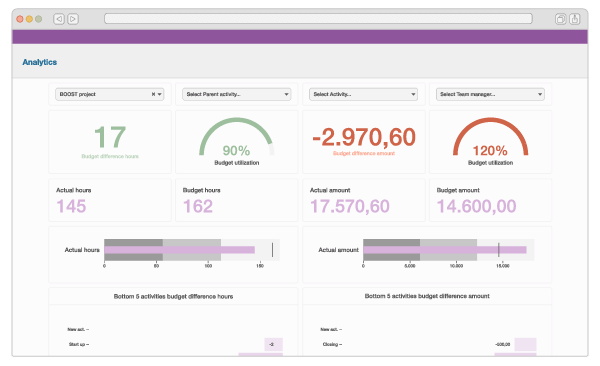 Learn from planner results
Your company needs to keep improving. An excellent way to do this is learning from and analyzing the project results. Were the budgeted hours sufficient or did we end up with an overrun?
Just looking at the past doesn't cover it. It would help if you also have a forecast of the future. What is the expected utilization of your resources? Is there enough work for all of your employees or do your account managers need to step up their game and close some deals?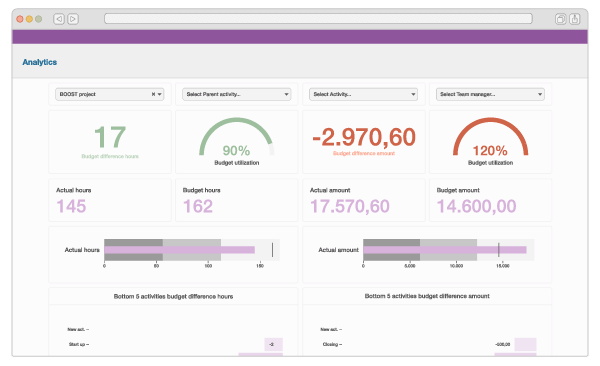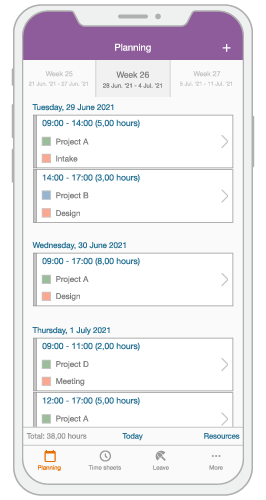 Mobile app
With the Mobile app for iOS and Android, employees have access to their schedules any time, everywhere. Perfect for employees working in the field. Changes to the schedule are immediately updated in the mobile app.
Employees can also account for the actual spent hours using the mobile app and they can report progress on activities. Progress can be reported in a percentage complete and estimated hours to complete the activities, giving valuable feedback in case activities need to be rescheduled.
We developed a number of integrations with other systems, so that you don't have to manually manage the same data in more than one system. Are you a techie? Use our API to develop your own integrations.
Clients depend on us
We have worked with small and large corporations in a wide range of industries. Our clients need to schedule projects and resources on a day-to-day basis to guarantee the best service and project delivery to their clients. That's where our project management software comes in.
Want to know more?
You may have questions about our team planner? We're here to answer them. And if you want to try it out, feel free to: we offer you a 30-day free trial so you can judge how much time our online planner will save you.