Planning skills of project and resource managers.
Planning is about working together. There are several different parties in projects that have significant input with regard to project planning. The customer will first indicate within what timeframe they need to see results and then the subject matter experts will indicate how much will be needed to achieve those results. The project manager structures the project so that the project results are realised in an orderly and efficient manner. And the resource manager takes care of the allocation of the right employees to the projects and anticipates future demand versus supply.
In order to achieve a good project planning, cooperation is very important. The way you work together can vary considerably from person to person. Belbin developed a 9 team role model, allowing you to characterize the style of collaboration of people. In this blog, we will look at which of these team roles best match the planning skills that project and resource managers must have. This creates an 'ideal' profile for these positions.
The first thing we do is list each Belbin team role with a brief description. We limit ourselves to 8 team roles. We do not consider the team role of Specialist for the purpose of this blog. We describe the roles below in more detail.
Belbin team roles
A team role tells a lot about the style of collaborating of a person and derives from the personality of the individual. In practice, we all have 2 to 3 team roles that suit us well, while some don't even come close to what we're good at.
A handy way to understand the team roles is by dividing them into 4 categories:
Do: Implementer and Resource Investigator
Think: Plant and Monitor
Want: Shaper and Coordinator
Feel: Completer Finisher and Teamworker
Implementer
The Implementer is the typical organizer. He is going to work structurally and has a sense of what is realistic and what isn't. He easily puts plans into executable tasks, likes clear appointments and is a hard worker. However, he can work too quickly and tends to resist innovations if the utility is not immediately clear.
Resource Investigator
The Resource Investigator is a typical networker. He is enthusiastic, thoughtful and always busy with new ideas, which makes him very good at brainstorming. He is a strong comminicator and good at forming and maintaining relationships. However, he can quickly get distracted and get bored. As a result, he becomes nonchalant and tends to not finish what he started.
Plant
The Plant is the creative thinker. He is an introvert, original, and always seeks space to fantasise, resulting in surprising solutions. He loves intellectual challenges, peace and creativity and can solve difficult problems. He goes solo and is not always as practical, so he sometimes fails to connect with the rest of the group. He tends to keep thinking and not pursue a course of action.
Monitor
The Monitor is the analyst. He is thoughtful, happily analyses and looks for the logical reasoning in questions. As a result, he knows things well, and he almost always comes to the correct conclusion. He is good at insight and overview and will never make a decision quickly. His downside is that he keeps on analysing and makes a reserved impression on others.
Shaper
The Shaper is the entrepreneur. He is driven and has a strong urge to perform. He looks for the challenge and motivates people, making him very suitable for delivering results. He likes tension and competition, making it easy to create conflict with him. On the other hand, he is quite intolerant and unobtrusive to people without ambition, which makes him tend to steamroll over people.
Coordinator
The Coordinator is calm, thoughtful and informs everyone what the procedure is. He focuses on the common approach to issues. He has a nose for the talent of others and likes to put them to work. This can make him a little manipulative in achieving the goal and he tends to delegate too much too easy.
Completer Finisher
The Completer Finisher is a perfectionist. He has the sense to always know where the risks are. He focuses on the details and delivers on time. He constantly and accurately checks the status, which makes him ideally suited for quality monitoring. He can quickly get overconcerned and has difficulty delegating, causing him to make a tense impression.
Team Worker
The Team Worker is social, helpful and strongly focused on creating a good atmosphere and sense of togetherness. Because he focuses on harmony, he makes everyone in the team feel at ease. He has trouble with conflicts and participating in them and therefore finds it difficult to make decisions in critical moments.
Team roles for project and resource manager
Before we look into which team roles best match planning skills, we first focus on team roles that best fit the project and resource manager. The portfolio of these officers is much wider than just planning. We can dismiss a number of team roles. Both the Plant and the Team Worker are very suitable in operational roles and less suitable for the coordination of projects and resources. The Completer Finisher has insufficient skills to work together and communicate with others.
Looking at the four categories of Do, Think, Want and Feel, the project and resource manager are typical doers, complemented with the necessary analytical skills. The roles of Implementer, Resource Investigator and Monitor are the most obvious.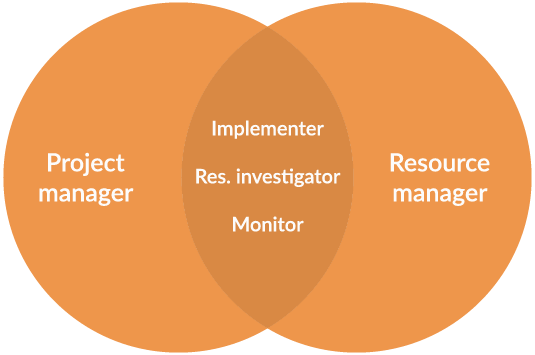 What about the Coordinator and Shaper roles then? Aren't they suitable roles to have? We regard the Coordinator as a typical management role. Great for managing a department, but less suitable for managing projects. For this he delegates too much. Project and resource managers are much more hands-on. The Shaper is going to be too unstructured and strongly focused on his own interests, which does not fit well with these positions.
Team roles versus planning skills
To determine which Belbin team roles best match planning skills, we need to translate the Belbin team roles into a planner's profile. For this exercise, we choose the following behavioural features that a planner should have:
Accurate
Stress Resistant
Communicative
Creative
Sensitive
A planner is well organised and focuses on detail. He is a balanced person and has a stable personality, making him stress-resistant. Because he is the central hub between supply and demand, he must have good skills to communicate and negotiate. In addition, he is creative to work around the dynamic puzzle of project and resource planning. Finally, he is sensitive to developments in his environment, enabling him to anticipate.
If we assess the Belbin team roles against these behavioural qualities, then we can see how they score.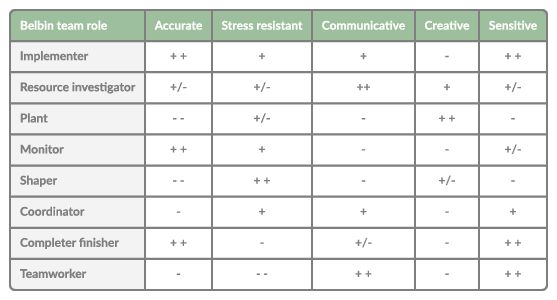 From the scores, we can immediately conclude that there is no single team role that fully complies with all the behavioural characteristics of a planner for the full 100%. That's also logical, because the planer's outlined profile is typically asking for the moon. Now most people can fulfil multiple team roles so this way we can still meet the desired profile.
Conclusion
The project manager seems to fit one with one with the team role Implementer, but we only miss a little creativity that you need in solving complex planning issues. This could therefore be well complemented if the role of Resource Investigator is also filled in by the person in question.
Although the Implementer's team role also fits the Resource Manager, this role is not necessarily needed for this position. With a combination of the team roles Resource Investigator and Monitor, you can also meet the required planning skills for a resource manager. These two roles combine strong communication skills with strong analytical capabilities, which support the resource manager's profile in being the central hub in the organisation. This person must be able to communicate easily with people and at the same time have the resource planning well in order.
Belbin team roles can help to see if the personality and talents of job applicants fit with open vacancies. In this blog, we've determined the essential team roles for project and resource managers, which will provide you with a good starting point for considering candidates.