Your project & resource planning center.
Everyone is familiar with the good old calendar. We plan our work and our private life in it, as well as all our other appointments. Sometimes it can be quite daunting. Now imagine that you need to plan for fifteen, seventy, or two hundred colleagues. In such a scenario, planning without the right tools is an almost impossible task. In this blog post we take a look at five powerful features that the digital planning board can deliver to your organization.
1. Overall insight
A calendar may offer an adequate overview when dealing with five employees, but when that number becomes larger, it just becomes an awful jumble of blocks. Your overall insight becomes hazy, the grip on your project begins to slip, and it's not always clear whether all the necessary employees have actually been scheduled.
A planning board turns the way of scheduling around
The planning board turns around the way you schedule in a calendar. The time is displayed in columns and employees are displayed in rows underneath. You can see where employees are working at a glance, as well as what other resources – such as vehicles – are available, and where there is still room for new projects. An empty space on the board is space in which to plan. The old-fashioned planning board is still available from Staples.
The digital planning board takes the concept of the old-fashioned planning board and adds all the advantages of the latest digital technology. This gives project-driven companies the opportunity to improve delivery.
Murphy's law dictates that the unexpected will always happen. An appointment is changed, equipment becomes defective, or an employee becomes ill. Adjusting the planning schedule accordingly in the digital planning board is done by simply dragging a block, similar to the old-fashioned planning board. The software communicates this directly to the digital calendar or mobile app of the involved employee. Processes are thus streamlined and automated.
2. No limitations
Companies grow in good times, and shrink in lean times. Business is a living, ever-changing entity. A digital planning board will grow with you, and keep abreast of your needs – whatever they may be. There are no limitations in terms of time or the number of employees displayed. There is no fixed view of information. With the click of a button, you can view longer times periods, or narrow down your search to only view staff with certain skills.
We all know that past performance is no guarantee for the future. However, this does not mean that history is unimportant. With a digital planning board, history is always there when you need it. You can identify important past trends, or go back in time to search for other factors.
How do you know that your workforce is being properly utilized?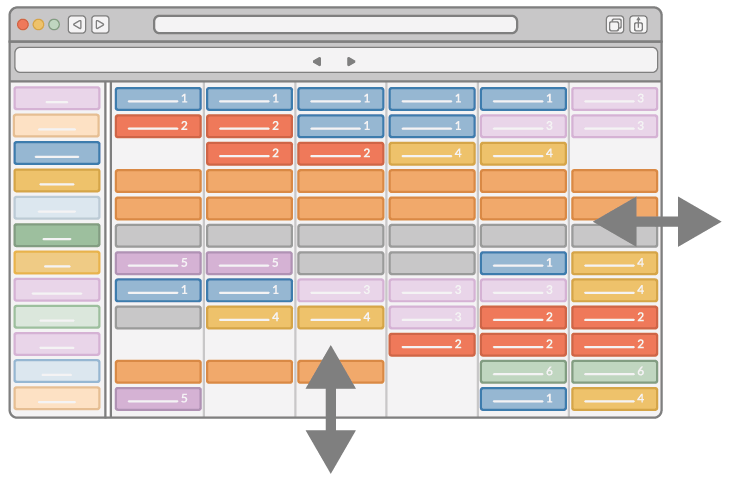 At the beginning of spring, there's always a big demand for large plows from landscaping companies. But once the season is over, these companies need fewer employees for the remainder of the year. Many companies that face these kinds of peaks and troughs in their business often deal with the problem by thumb-sucking when it comes to forward planning. How do you know that you have calculated the numbers correctly? How can you be sure that you won't have too much – or too little – staff on hand?
With a good digital board, you can base you decisions on data. In this way you can be confident that your workforce requirements have been accurately calculated. Broad enough to be flexible, yet lean enough to avoid unnecessary costs.
3. More efficient project execution
With a good digital planning board, you have a dual view of the planning. One view allows you to see which employees still have time available, and in the other view you can see the progress of the project itself within the various activities. You can also see which colleague is dealing with which specific task.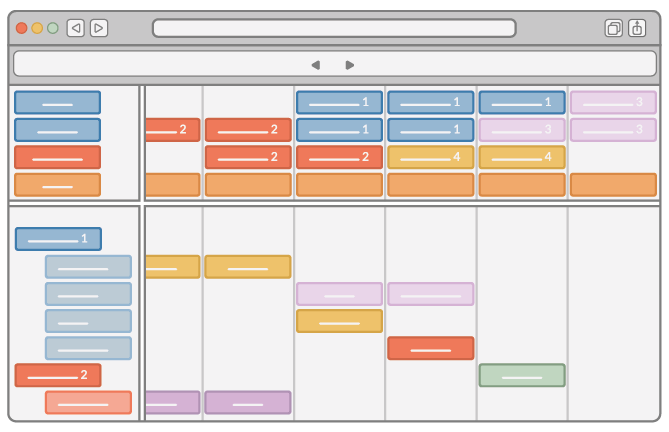 You are in control of your projects. The implementation is more efficient, projects are executed faster, and fewer things can go wrong. If an employee suddenly becomes ill, you can instantly factor this into the planning – which will obviously result in a gap in the project planning. And this will immediately be visible in the digital planning board. Which means you won't forget to fill the gap with an employee who has the required space in their work schedule.
4. One single truth
The biggest advantage of online digital planning? There's just one single truth: a single project plan. And one capacity plan. With the old-fashioned planning board, further action is always actively necessary. With Excel, often only one person is able to work with the file to do the planning. In the event of any changes, the planner must always call, send a text, type an email, and manually adjust the schedule.
And all this in the hope that the change will be noticed. With a digital planning board, you save time on unnecessary communication. The software automatically updates everything for everyone. This prevents mistakes and the loss of valuable time.
Your planner no longer needs to act as a telephonist.
Because everything is done online, collaboration becomes very simple, even over multiple locations. The planning is always up-to-date, everywhere. And this is achieved without the need for difficult installations and expensive maintenance of IT infrastructure.
5. Drag and drop
A digital planning board is based on the old-fashioned planning board. Colors are used for additional information. Placing an employee in a project is done by drag and drop. This applies to both planning boards, which results in low threshold software. This ensures that your planner can work quickly with the online app.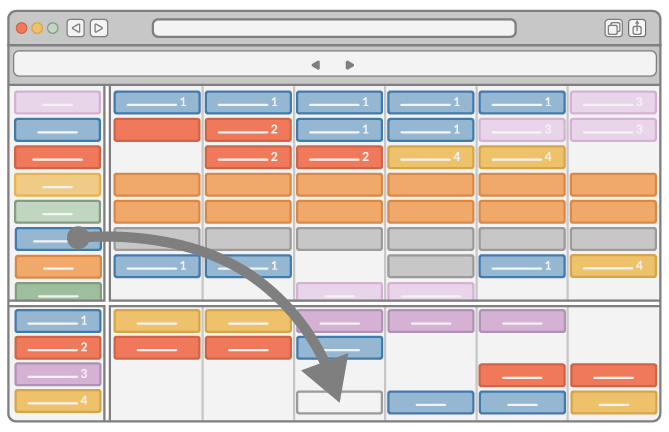 If your organization is currently still using a physical planning board and wants to switch to a good digital version, they will soon learn how to use it. We can guarantee that from our own experience.
Would you like to know more about the benefits of digitally planning your projects and resources? Contact us. We'll be glad to help you look at a suitable planning solution for your organization.