Implementation planning tool: part 2.
Timewax explains in three blogs on what you should decide to implement your planning software successfully. Part 2: Big bang or phased implementation of a planning tool?
It applies here too: If you have a small business, and you want to improve the planning process, then you should opt for a 'Big bang' approach. With multiple departments with procedures for time recording and invoicing, the solution is less obvious.
With a 'Big bang', you implement the new planning tool for all departments and processes at the same time. This approach gives the fastest results, but it also comes with high risks.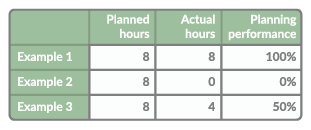 If possible, always opt for a phased implementation. It is better to book a few smaller successes. We call this the salami tactics: "Don't eat the whole sausage in one go, but one slice at a time".
The disadvantage of a phased implementation is that you end up with temporary links. You get these links because department A already works with the new planning tool and department B still works with the old software. If you work in phases, it's essential to look for the salami slices that are the least dependent on each other.
Roughly, you can break up the project in two ways:
1. Functional
2. Organizational
Functional
With a functional approach, you can, for example, choose to implement the planning module of the planning tool first. Planning and the systems used for scheduling (often Excel) are somewhat separate parts within an organization. Because of this, you can easily separate them without too much impact.
Once you start planning with the new tool, it will be much easier to get people to do time recording based on the scheduled hours in the system. You already have all the planned hours as a starting point from the planning module. For employees, it then becomes a simple matter of copying hours and make adjustments where necessary.
The invoicing is often done in separate systems, like in accounting software. You can implement the invoicing module last when everything is running smoothly. That is an essential condition, especially in projects where you invoice based on time material.
Organizational
With an organizational approach, you implement the software per department: first all modules of department A, then of department B, and so on.
You can also decide to first introduce the planning module for department A and then for department B. Then you'll have a mix between an organizational and functional approach.
When you're considering an organizational approach, you should take into account the extent to which departments work together. See the chapter on the business factors in our first blog about planning tool implementation for more information. With a high level of cooperation, it is often not possible to implement a module per department. If you still choose to do so, you then create a situation where one department works with system A, and the other department still works with system B. These two departments now have systems that can't communicate with each other anymore. This situation increases the complexity, provides extra work and more room for error.