Lean, simplicity and logical sense
With Lean, we want to change things to better and maybe even more than better. Working daily towards continuous improvement is the goal. Entwine the Lean DNA with the own DNA. Because we use Lean in our business and planning processes or at home in the kitchen, it is possible to eliminate steps that don't matter and never deal with them again.
But do we really need Lean here? Just use your logical sense! Or is logical sense in fact Lean….
Logical sense is a characteristic which is attributed to people who follow a logical reasoning without any form of training or can very clearly see right through the situation. Can people who are busy with Lean and who were trained for it also think according to logical reasoning? Before I answer this question, we are going to take a deeper look.
Logical thinking is a property that is not for everyone. How can this be? Isn't it crazy? Do we really go on autopilot that often? Don't we think anymore? Indeed, we think a lot less than before. And why do you think this is? There are all kinds of things everywhere around us to make things easier. TV, internet, home appliances and even the ability to run on a treadmill at the gym.
Somewhere long ago in prehistoric times we still had to think logically, because otherwise we would have starved or would have been eaten by something else. It was just this survival instinct that has led us to the modern world and its consumer society. Only, this world seems to have slowed down any logical thinking. One of the professions that are closer than the modern man to this prehistoric man is the farmer. The farmer must think logical! If the farmer would live like a modern man in the consumer society, there would be no food anymore. For food, you need patience. Nature can only be influenced to a very limited extent. That ensures that the farmer still has his logical sense and continues to apply all he or she has learned in daily practice.
Lean makes it possible to go to work using logical sense more often. This is possible because you learn how you can activate your own logical thinking, inherent in every person. Every person has a logical sense and is quite capable of inventing beautiful new things. By working with and based on Lean, ideas can come to the surface faster.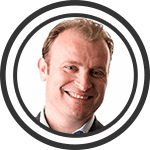 Bart van der Wijst
Bart is Managing Director of PlanMen. PlanMen helps organizations with staff and or capacity planning to better organize their people and work. PlanMen also provide various training courses in the field of Workforce Management.