Resource planning software
As a service provider, you can very easily manage your projects and employees with Timewax. Our resource management software makes for efficient project scheduling, no matter how far in the future you can see. The resource planning can be shared with your employees by using your company's calendar system or our mobile app.
Why bother scheduling projects?
Because you don't want to be swayed by the issues of the day and you don't want these issues to rule over your time in the next days. To govern is to foresee and creating a schedule is your weapon of choice. But how far in time should you schedule?
That depends to which extent you can foresee the future. When activities tend to be in the distant future, you will roughly outline them. You will schedule them, for example with a Gantt Chart, but you will refrain from scheduling them in detail.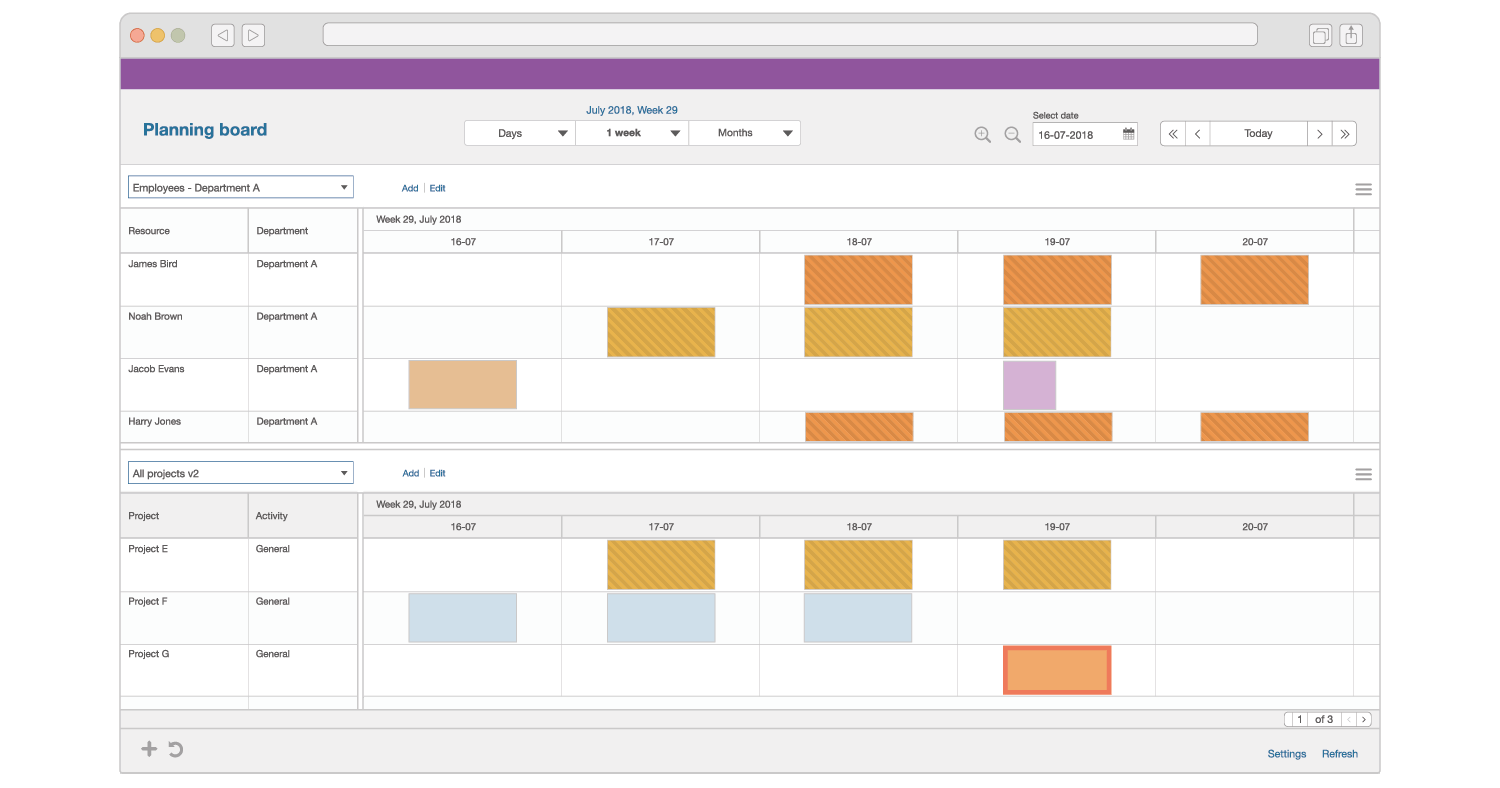 Creating a work schedule
It is a best practice to allocate employees for the entire duration of the project. For upcoming activities you should create operational schedules that clearly states which tasks employees are expected to carry out.
For big projects you typically focus on the next 4 to 6 weeks. Each phase is broken down into activities and optionally sub-activities. Based on that, you will assign employees to the activities, just like in our Planning Board.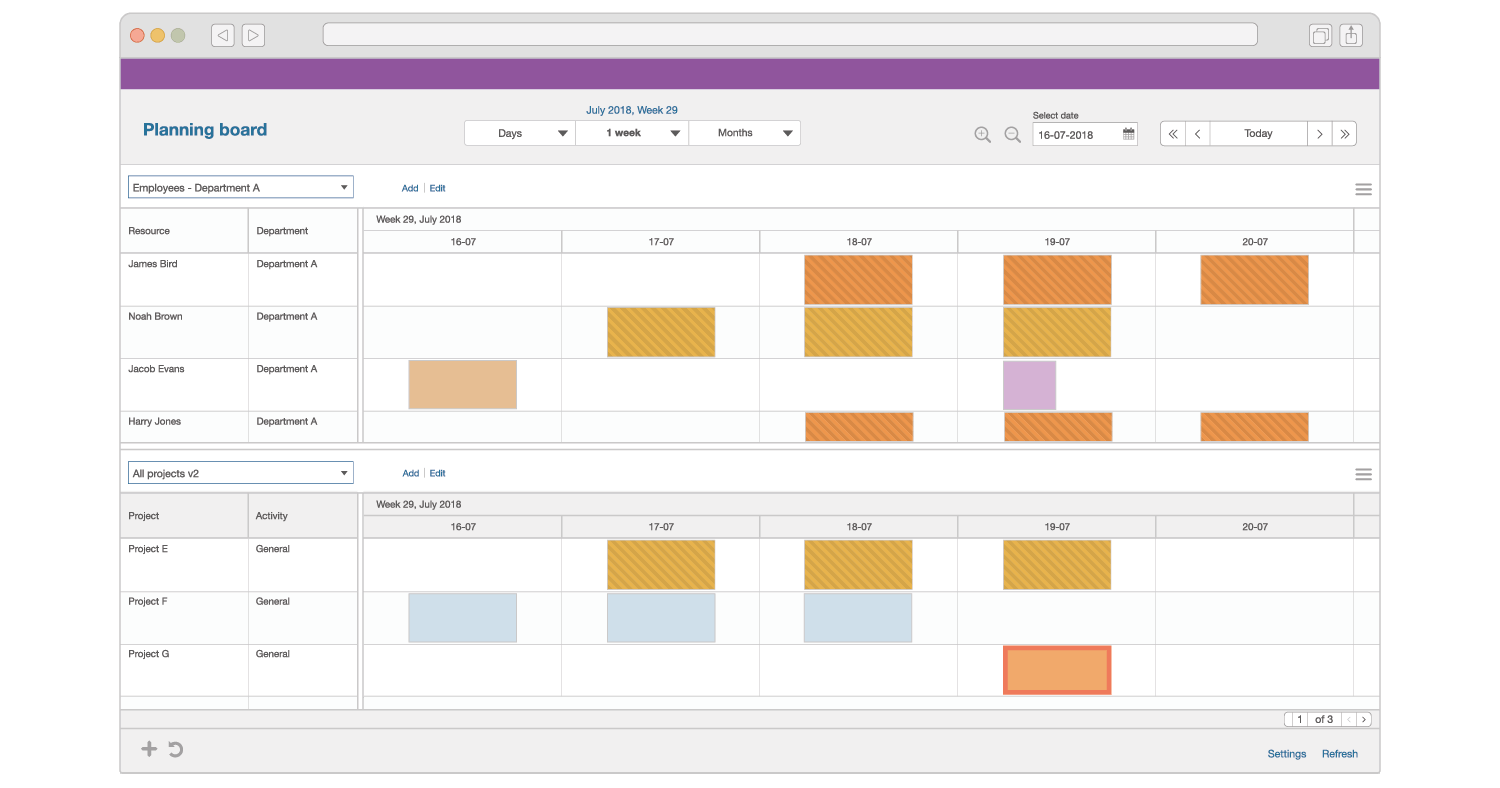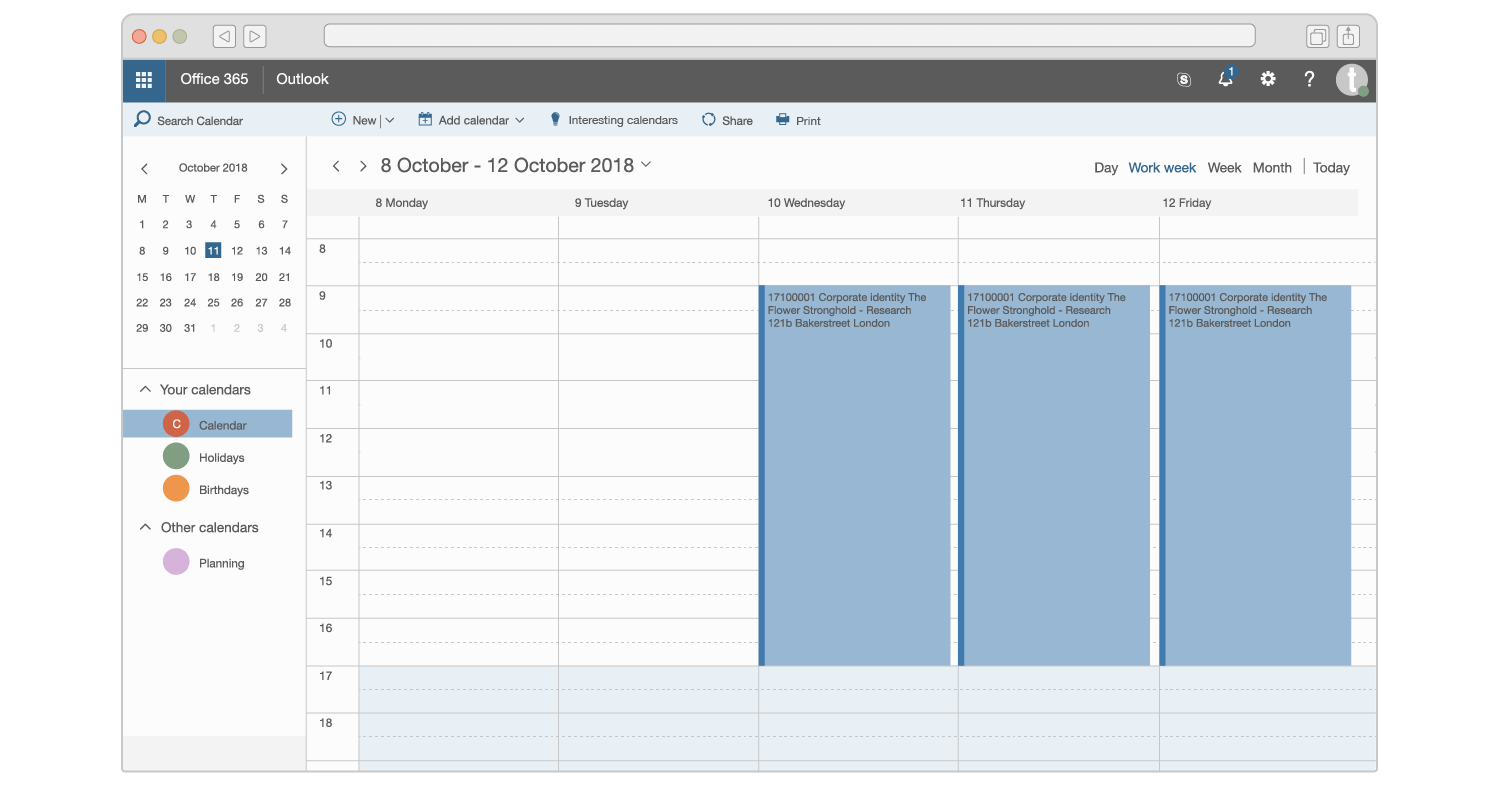 Creating a weekly schedule
Many companies organise their work on a weekly basis which provides them a clear cutoff point. Every week, they create a work schedule for the next week on which all employees can rely. Of course it is not imperative to schedule on a weekly basis.
You can also schedule on a daily basis. For example, this is very common for companies that deal with technical malfunctions, which simply cannot be foreseen ahead. You can only schedule employees to deal with these malfunctions on the day they actually occur.
Important aspects in scheduling time
In scheduling time there are two aspects you need to consider: duration and resource management. With big projects, you have to deal with both aspects. With small projects, you primarily have to deal with resource management.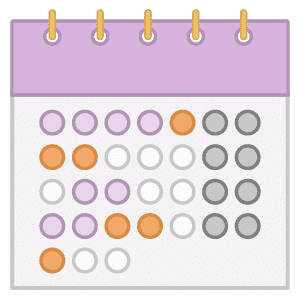 Which time?
The duration is the length of an activity. It does not say anything about the required capacity in terms of work-hours to complete the activity. An example: the duration of an activity can be 5 days, whereas 160 hours are needed from a capacity point of view.
Scheduling activities in duration is helpful, when the project takes more than 4 weeks and involves multiple activities and employees. For smaller jobs, scheduling the duration is something you can skip by directly moving on with scheduling the required capacity.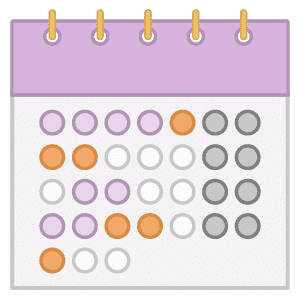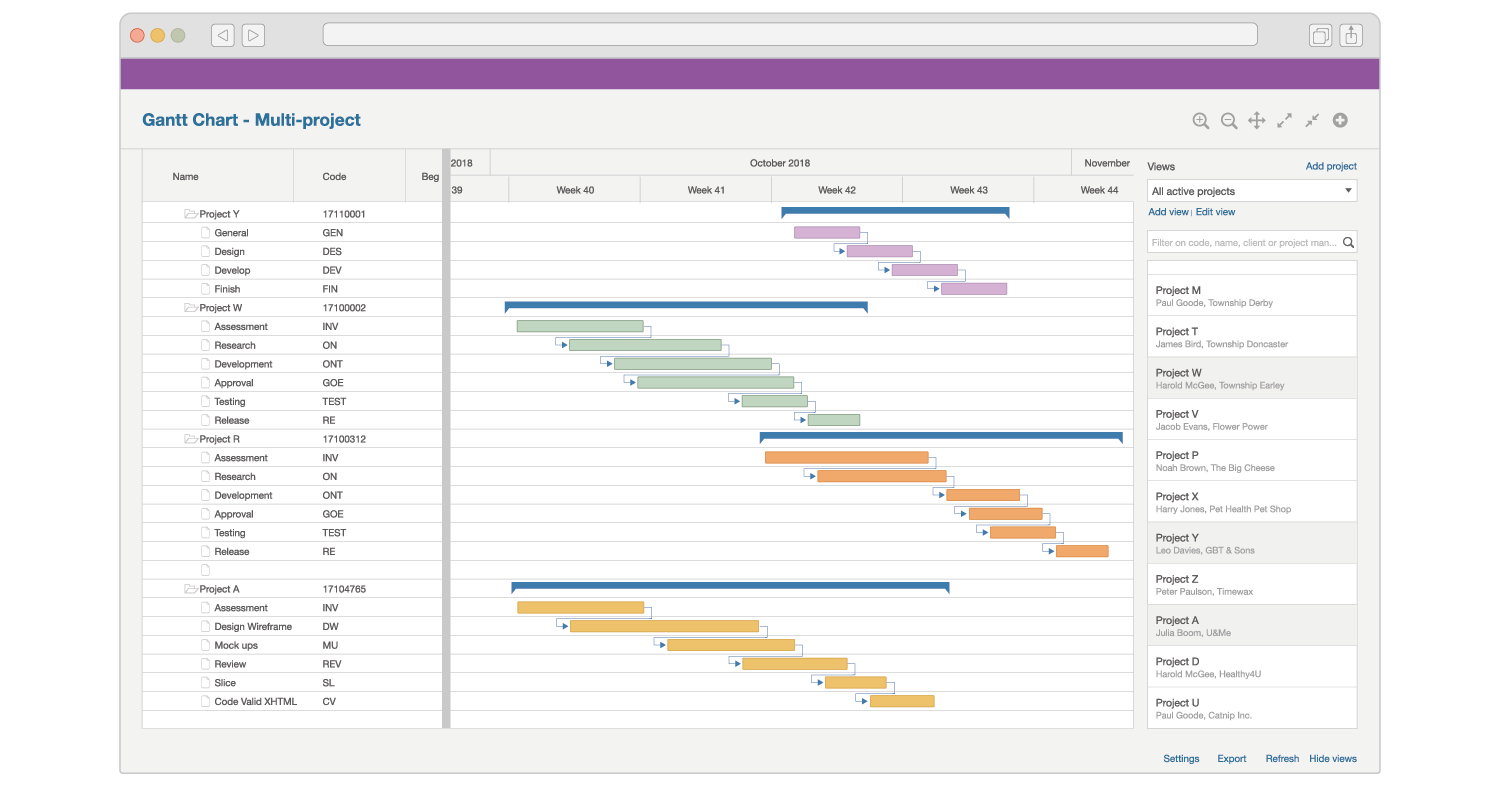 Scheduling duration
The first thing to do is breaking down the project in phases and activities. As a next step, you will start scheduling the duration. For each activity, you will set the start and end date and you will also determine which activities are dependent on each other.
In Timewax, scheduling duration is done with the Gantt Chart. This will create a visualisation of the project, which can be used as a means of communicating the project with your clients and the project team.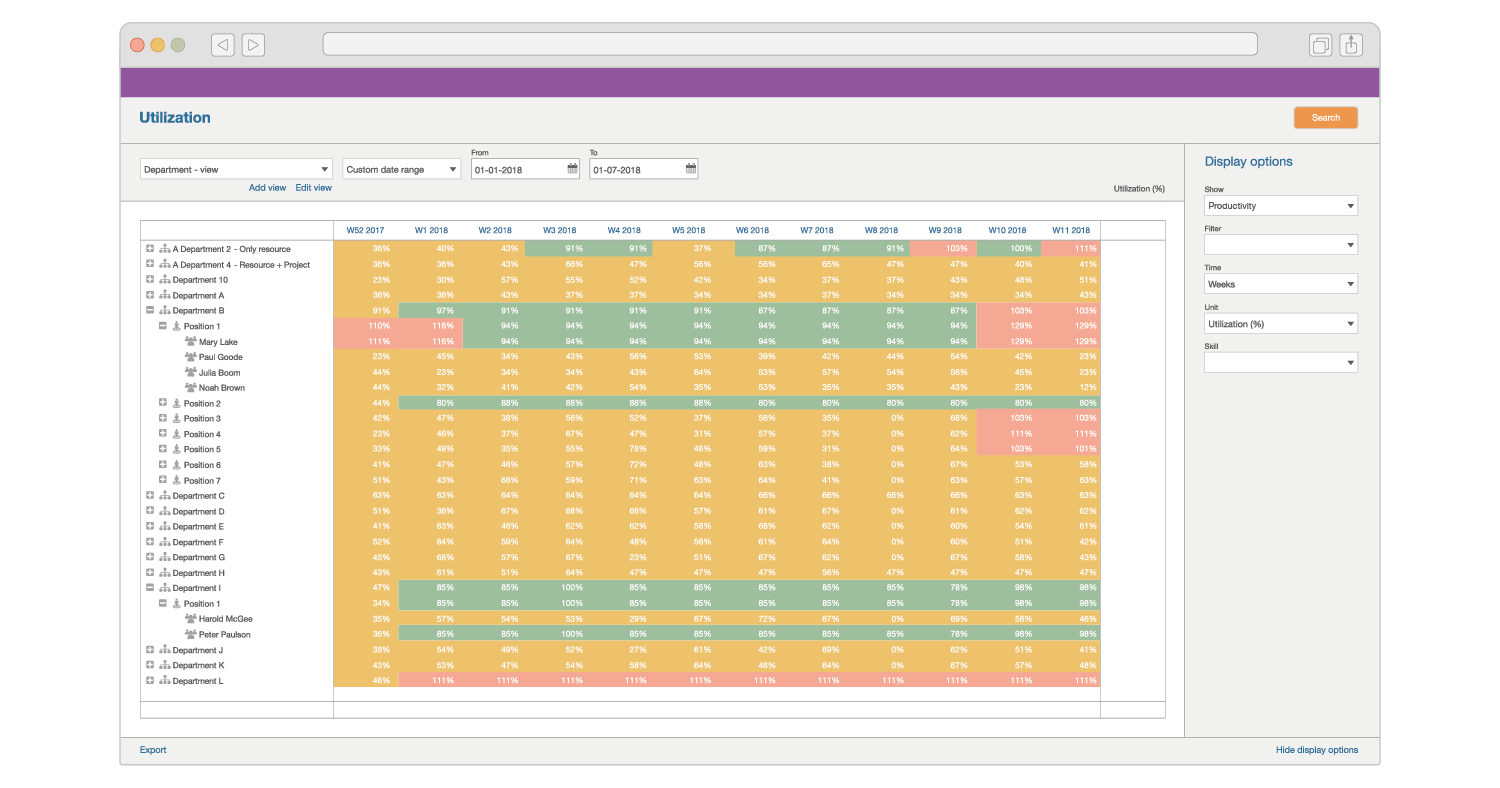 Resource management
Resource management takes care of assigning the employees that will carry out the activities. Based on the Gantt Chart and the number of required work-hours, a number of employees is scheduled. In Timewax, resource management is done with the Planning Board. With the Utilization feature you can analyse the productivity of your organisation by department, position and resources to spot issues.
You can't plan everything, and it's safe to assume tasks and projects may not always follow the script. Most service providers need resource management software that helps them deal with contingencies. That's why a utilization report gives you a total view of available resources, so that resource planning becomes a little bit more flexible.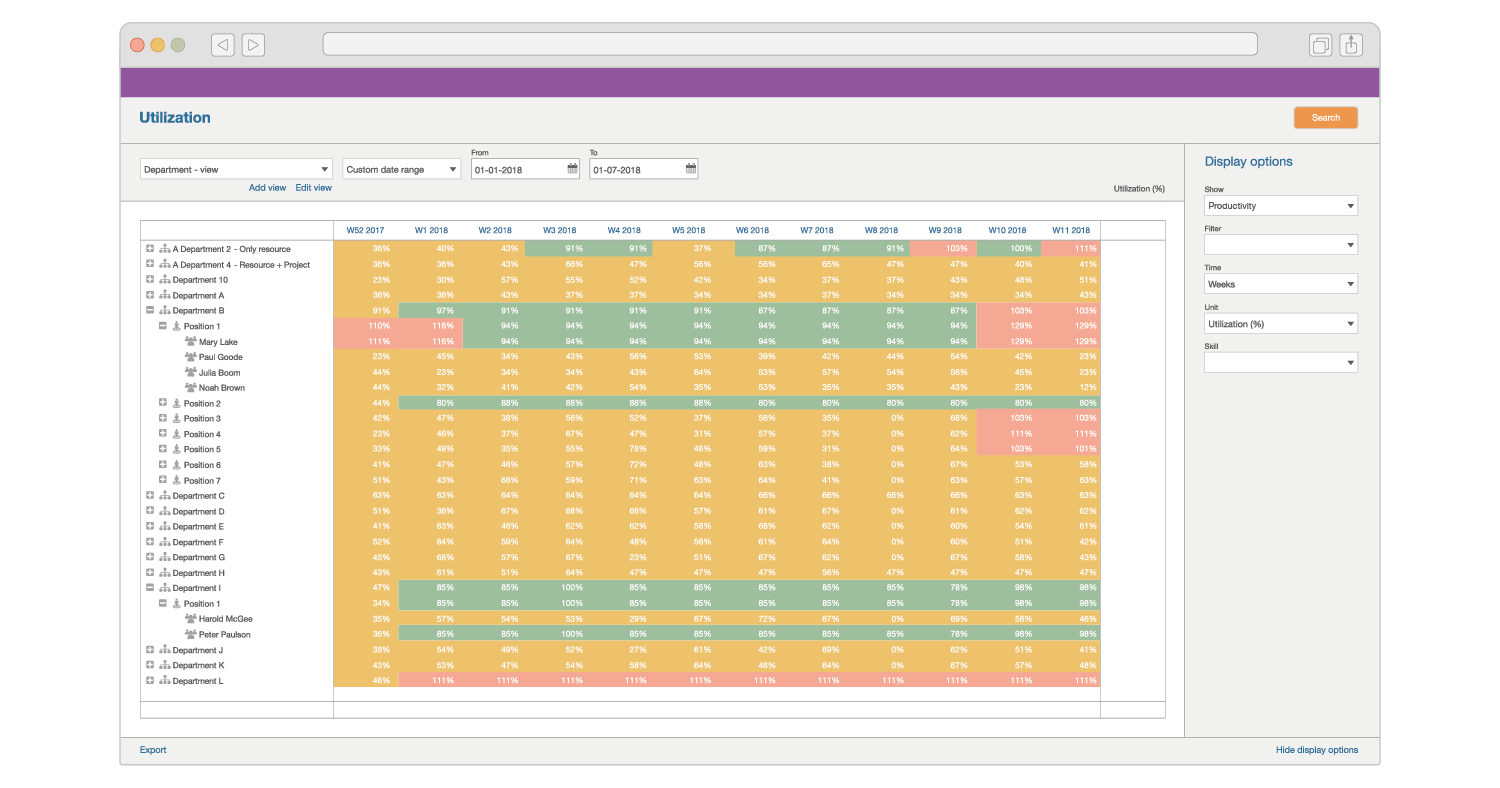 We developed a number of integrations with other systems, so that you don't have to manually manage the same data in more than one system. Are you a techie? Use our API to develop your own integrations.
Our clients are service providers in all kinds of industries. They need to schedule projects and resources on a day-to-day basis to guarantee the best service and project delivery to their clients. That's where we come in. Check out more clients.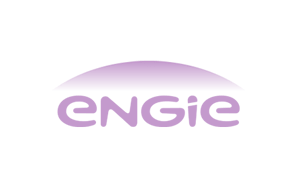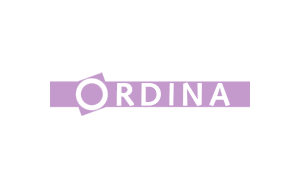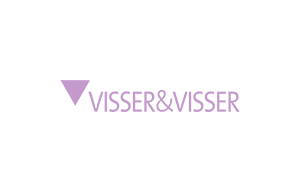 Want to know more?
Would you like to try our project and resource planning solutions for free? We invite you to get your 30-day free trial and start saving time today.